We're three years into the ANA Avatar XPRIZE competition, 77 Qualified Teams from 19 countries have been selected to compete by the judges, and we're just over one year away from finding out who will win a share of the $10M Prize purse. The competition has already accelerated avatar technology by incentivizing teams to think big, by building new global networks of innovators, and by getting everybody who is involved excited about the possibilities of transporting human presence to far-flung locations in real time. What better reason to celebrate our third anniversary? 
"We are so excited for the ANA Avatar XPRIZE to reach this important milestone," said Mitsuo Tomita, Senior Vice President of Marketing at the competition's sponsor, All Nippon Airways. "We are just over a year away from selecting the Grand Prize Winner of a competition whose goal is to build the first viable commercial avatar, a technology which will break through the remaining barriers of time and space to unlock limitless physical connection and collaboration. In a world where remote work has become more prevalent, the fruits of the innovation achieved during this competition will bring the world one step closer to the bright future of limitless connection we envision." 
We couldn't agree more, and we're buckling up for the next stages: the Semifinalists announcement in April, Semifinalists testing in September, and the Finalists announcement in October. Then, on to the big moment – Finals testing and Winners announcement next year in June 2022. 
In the meantime, welcome to our anniversary party – you're all invited to join us on a trip down memory lane… Here are five big milestones of the ANA Avatar XPRIZE so far. 
XPRIZE Visioneering 2016 – Prize Design Concept and Funding Commitment announced, October 2016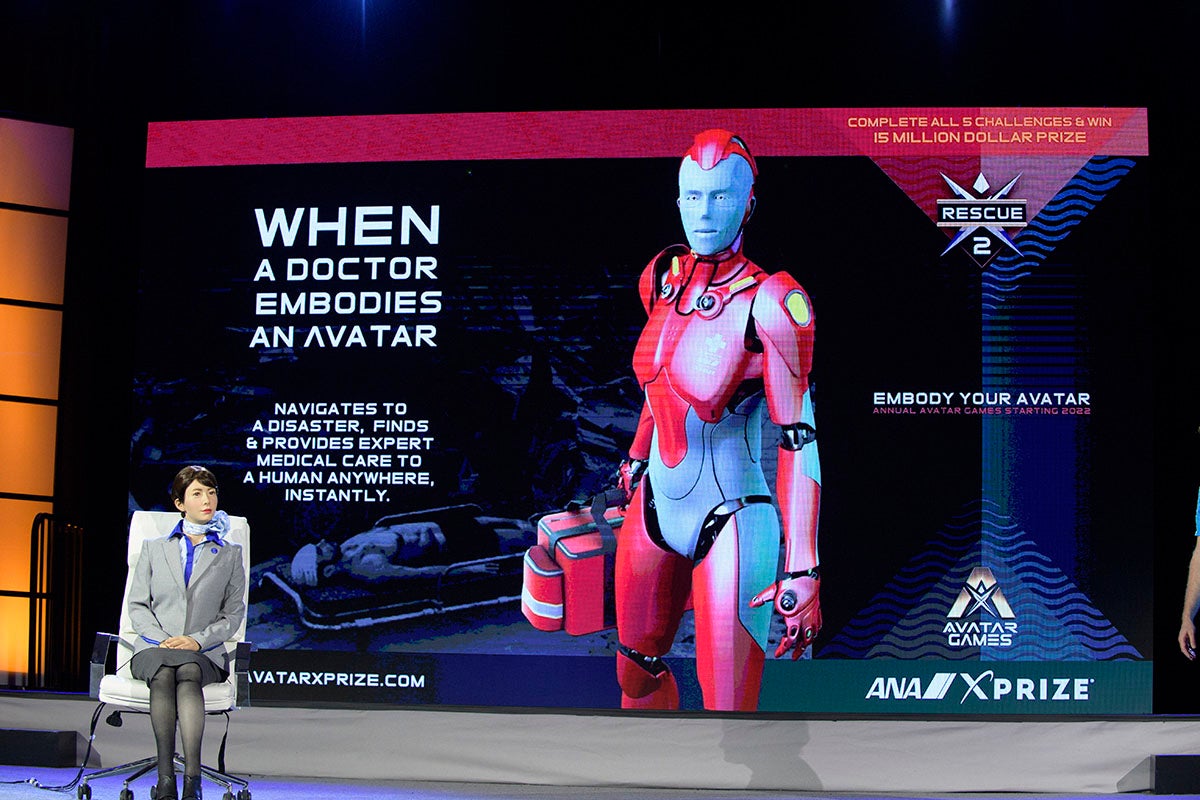 The ANA Avatar XPRIZE originated from XPRIZE's six-month concept incubator program, called Visioneering, where in 2016, the ANA Visioneering team first proposed the avatar concept.  The concept received top honors at the finale event and qualified as "ready for launch" by a group of 250 mentors including prominent corporate and political leaders, entrepreneurs, philanthropists, technologists, and scientists. That same night, ANA agreed to sponsor the competition, enabling the idea of Avatars to become a reality, culminating in the launch of ANA Avatar XPRIZE at SXSW in 2017. 
"The strong relationship between our two organizations began all the way back in 2015, with ANA stepping up to sponsor part of our Google Lunar XPRIZE team summit held in Tokyo, Japan" remembers David Locke, Prize Director. "The event and collaboration that took place opened the door between the two organizations with ANA later becoming an overall partner with XPRIZE, which led to their participation in Visioneering 2016…" 
Visioneering 2016 was one of XPRIZE's annual Visioneering summits that bring together a highly curated crowd of accomplished CEOs, world leaders, philanthropists, influencers, and thought leaders who care about going from success to significance. Attendees help XPRIZE shape how we tackle global challenges, learn from one another about breakthrough efforts being conducted across the world, and experience new exponential technologies that are helping to generate a more abundant future. 
Here's a video from the vaults that sums up the 2016 summit for those who want to see what they missed…  
SXSW Prize Launch, March 2018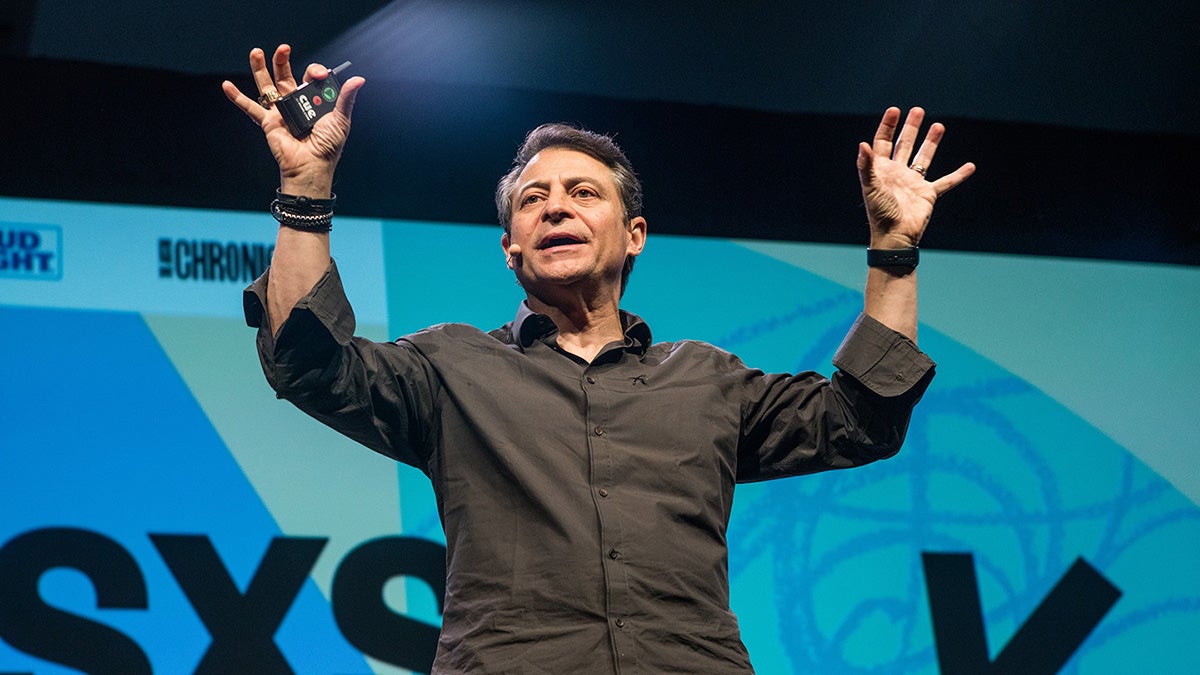 In March 2018, XPRIZE Founder Peter Diamandis announced the launch of the $10M ANA Avatar XPRIZE on stage at SXSW. "Our ability to physically experience another geographic location, or to provide on-the-ground assistance where needed, is limited by cost and the simple availability of time," Diamandis told the audience. "The ANA Avatar XPRIZE can enable the creation of an audacious alternative that could bypass these limitations allowing us to more rapidly and efficiently distribute skills and hands-on expertise to distant geographic locations where they are needed, bridging the gap between distance, time, and cultures." And with that, we kicked off the competition and opened team registration. 
Team Summit #1, May 2019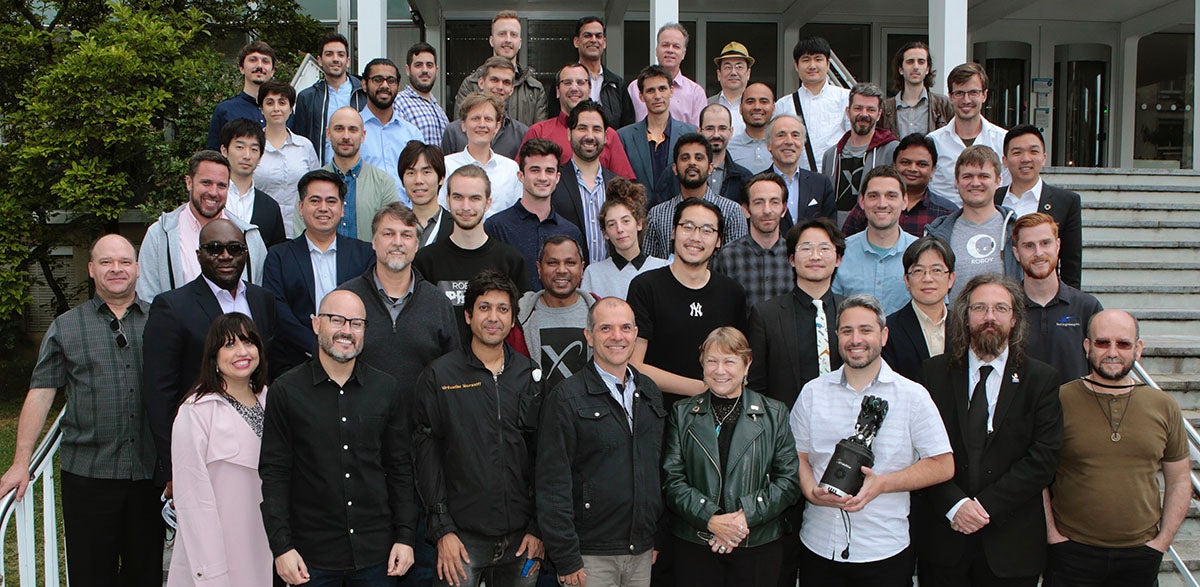 Cut to Geneva, Switzerland a little over a year later, and registered teams, XPRIZE staff, advisors, and partners on the competition convened for our first Team Summit. 
"In 2019, at the first team summit in Geneva, we had the privilege of bringing a flourishing telerobotics ecosystem together from all over the world," David remembers. "That was the first time competitors had the opportunity to meet face-to-face with ANA, their fellow competitors, and our other competition partners and supporters. Integration is a core facet of this competition, so it was encouraging to see open collaboration and idea-sharing take form so seamlessly. A collaboration that we are seeing bear fruit today". 
Later in 2019, we received team Qualifying Submissions, the first official technical materials from our competitors. The diversity of technical approaches and solutions was astounding and spurred extensive discussions between judges about which teams to select from the qualifying round. 
Qualified Teams Announcement, January 2020
"At XPRIZE, we believe a breakthrough idea can come from anyone and anywhere," said David back in January 2020, when we announced the Qualified Teams. "The incredible geographical diversity represented by the 77 teams moving forward will provide the unique perspectives necessary to develop transformative avatar technology capable of transcending physical limitations and expanding the capacity of humankind itself." 
Qualified teams came from 19 nations – including the United States, United Kingdom, Thailand, Switzerland, Russia, Netherlands, Mexico, South Korea, Jordan, Japan, Italy, India, Germany, Finland, Czech Republic, Colombia, Canada, Brazil, and Australia – as well as a range of backgrounds and industries. As for variety within the entries to the prize, Colin Peartree, Team Coordinator for the ANA Avatar XPRIZE elaborates:
"We're seeing teams take a number of different approaches in developing their avatar systems, and they are building for a variety of applications as well. Some competitors are outfitting their systems for specific uses such as space teleoperation and medical examinations, while others have developed general-purpose systems that could be applied in a range of more common situations, like visiting family and friends or exploring a city, for example. Whatever the use case, a major goal of these systems is to enable the operator to feel a sense of presence – a true connection to the people and places they are interacting with."
Semifinalist Selection Judge Summit, February 2021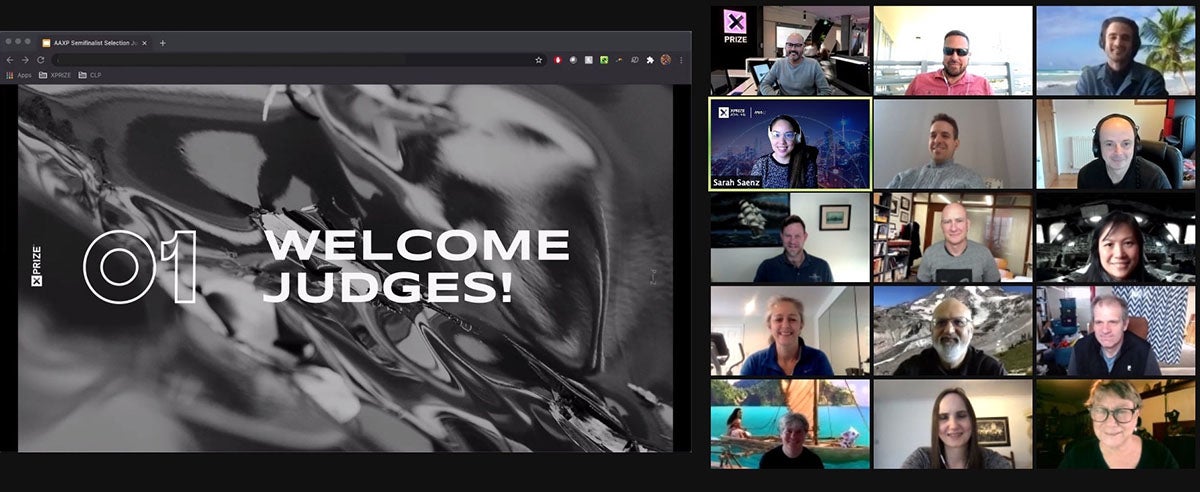 After a thorough review process, our judges convened virtually to select Semifinalist teams that will move through to the next stage of the competition. "It is evident from the recent Semifinalist Selection submissions that the teams have come a long way since beginning their work in this competition," David explains. "The challenge presented by this level of technical integration is no small task on its own, and the teams' achievements are all the more impressive in the midst of a global pandemic. We can hardly wait to see these avatar systems is action at Semifinals testing."
We can't tell you who the judges have selected yet, but we can tell you we're proud of our incredible judging lineup. The same goes for our Advisory Board, who are global thought leaders, including robotics experts, haptics inventors, psychology professors, top entertainment researchers, virtual world creators, and computer vision dynamos, lending their expertise to the Prize. 
We can also tell you that, if you think you have what it takes to win the ANA Avatar XPRIZE, late registration is open until June 2021. Jump onboard by contacting the operations team at [email protected], and stay tuned for Semifinals testing later this year. 
Want to learn more? You can meet some of the XPRIZE Qualified teams on our blog, and keep your eyes peeled for our Semifinalist Announcement in April, 2021.